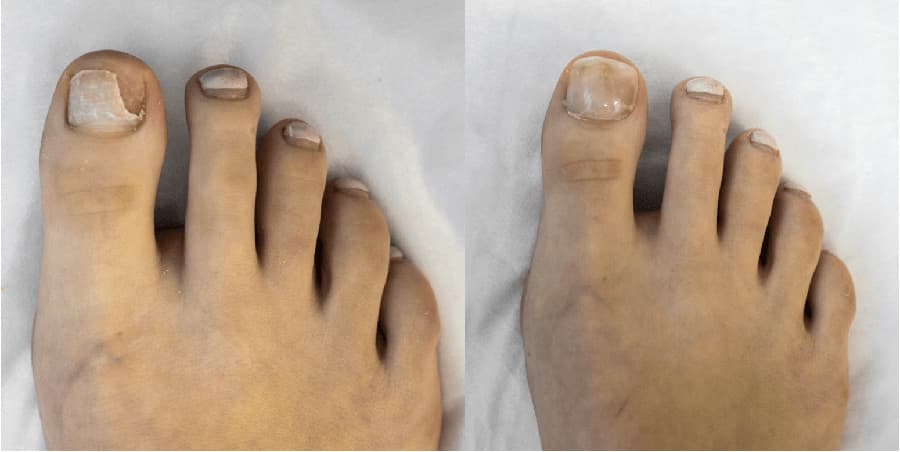 In this beautiful warm Australian climate it's only natural to want to have your feet out, soaking up those rays! Even just in the comfort of your own home, it's nice to look down at your own feet and not want to cringe. However, when you're looking down at your toenails wondering how and when they started to look so odd it can be hard to just slip on your favourite open toe shoes and wear them with the confidence you once had.

Nails can experience many different types of trauma that can have short or long term effects. Nails being bruised, broken, thin, weak or showing signs of fungal tend to not look the same as your other healthy nails. Instead of hiding your toes, wondering when and if the nails will ever return, we now have a healthy, safe, painless cosmetic procedure to restore you will a full set of nails.
KeryFlex Nail Restoration is a Podiatry only treatment, using sterilised equipment and safe techniques unlike the application of acrylic and or gel nails. 
The medical grade resin used in this procedure is flexible, durable and non-porous, allowing the natural nail beneath to recover normally. It is free of any harsh acids used in nail salons that can cause further trauma to the nails.
In fact, KeryFlex's resin is impregnated with the hydroxypyridone anti-fungal ingredient Piroctone.
Depending on how many nails need to be restored, the procedure can take anywhere from 15-40 minutes. With re-application being around 8-10 weeks depending on how quick the natural nail underneath is growing out.
KeryFlex is unaffected by acetone, nail polishes or detergents giving you the luxury of being able to paint and style your new nails as you please. 
Podiatrists Kate and Anneliese at City Feet Clinic are both trained in the application of KeryFlex Nail Restoration delivering you with immediate and significant cosmetic enhancement after just one visit.
If you're uncomfortable with how your nails look and you're sick of worrying about having to keep them out of sight then this is perfect for you. KeryFlex Nail Restoration provides patients with instant relief after what has previously been known as a long road to recovery. 

KeryFlex appointments are now available at both our North Sydney & CBD locations.