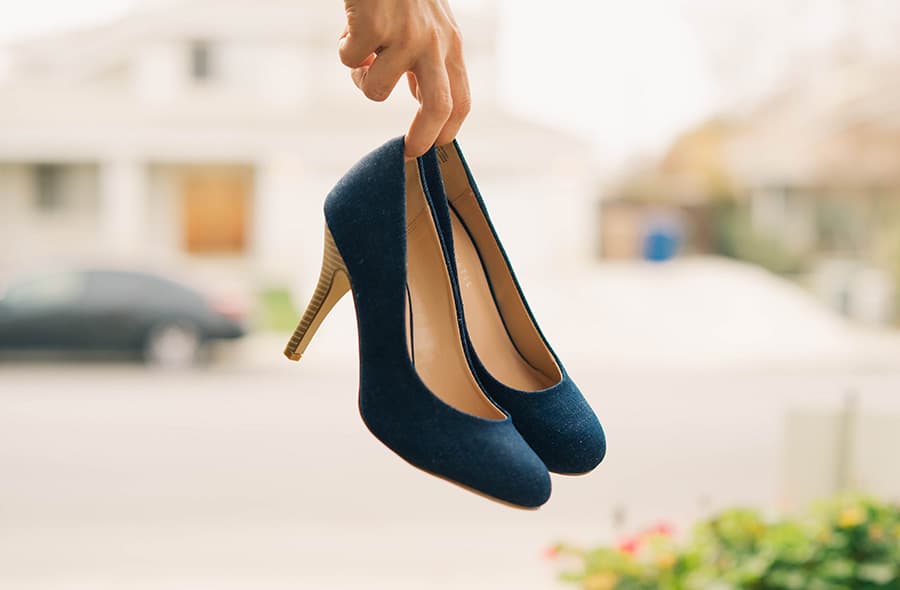 Just like that, we're suddenly back in wedding & racing season. We've put together our favourite tips to save you from blisters, carrying your shoes and having to turn down that potential first dance.
---
To start with… Practice. Wearing. Heels.
It might sound crazy but make sure you are gradually training your feet for heels. If you are in flat shoes all the time and then suddenly wear heels for 8-10hrs your feet will protest. So gradually training your feet can help reduce the shock.
In the end, though high heels transfer 75% of your body weight onto the balls of your feet. So eventually your feet will start to hurt. They cause excess force and strain on bones, muscles, tendons, ligaments and skin, not to mention ankles, knees, hips and lower back.
These "Six Pre Event High Heel Hacks" will give you the best chance to stay smiling and on the dance floor.

  
1. Purchase your shoes in the afternoon.
Your feet are actually bigger in the afternoon and waiting a few hours will assist in choosing the right size.
2. Forefoot Cushioning.
Adding gel cushioning to the forefoot of your heels can help a great deal, especially if you have picked up a pair of ill-fitting (too large) shoes on sale.
3. Toenail Prep.
It's best to keep your toenails short when wearing heels - longer nails can cause bruising or pressure on the sides, you don't want to cause an ingrown toenail. We offer a fast "Medi-Cure" service which we can do before you add your toenail polish.
4. Pre bandaid.
Adding "Compeed" or Bandaids to any sore/hot spots on little toes, heels, & big toe joints. To find these try on and wear your shoes the night before and take note of any spots they may rub.
             
5. Sweaty feet?
Driclor the bottom of your feet. This is a great trick that is best done a week prior to an event. But if you have any skin irritation, please stop. (It is heavy in aluminium chloride to block sweat glands and should be used temporarily)
6. Order a Tumeric Latte.
Turmeric is a natural anti-inflammatory, pain reliever and has antioxidant abilities. Studies are being done on Turmeric and liver function may help with improving liver function. To be honest, Tablets are a lot more effective than mixed in with an insta-worthy latte and should be taken post race day. (However be careful of side effects, upset stomach, blood thinning, stimulates contractions if pregnant.)
Before your next big event make sure you book in to see us so we can quickly fix up any "Dry and Cracked Feet" (They are never are not a good look!) A quick 30-minute Medi-Cure treatment will leave your feet looking and feeling refreshed just in time.
Bookings are available online now.
#CityFeetClinic